The United Nations started this year's climate change talks in central Poland Monday to seek a deal next year to succeed Kyoto Protocol that is to expire in 2012.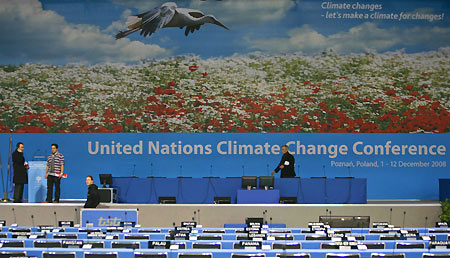 Members of staff prepare the stage prior to the UN climate change conference in Poznan November 29, 2008. [Agencies]

Over 9000 participants from governments, non-government organizations gathered here for two weeks starting from December 1 to build momentum toward Copenhagen meeting next December.

During the talks attended by delegates from over 190 countries, the UN will table a negotiating text for the first time for parties to discuss so that differences will be narrowed, a key step toward a deal next year.

The meeting, however, has been shadowed by the current financial crisis which will limit governments' room for concession regarding to the climate change.

On Sunday night, UN climate chief Yvo de Boer told reporters that the financial crisis is having an impact on climate change in a number of ways.
"The financial crisis is having an impact everywhere. It is also having an impact on climate change in a number of ways, " Boer said. "The financial crisis also means that less capital available on international market."
UN Secretary-General Ban Ki-moon will attend the meeting later next week. The United States will be represented by officials of the outgoing Bush administration.