A climate meeting in Bali took small steps towards a new global deal to fight global warming by 2009 on Tuesday.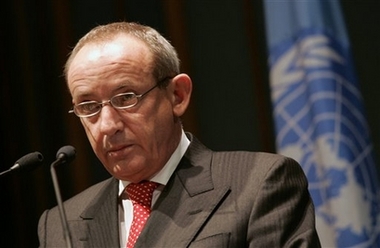 Yvo de Boer, the executive secretary of the UN Framework Convention on Climate Change (UNFCCC) speaks during the opening meeting of the UN Climate Change Conference Monday, December 3, 2007 in Nusa Dua, Bali, Indonesia. Delegates and scientists opened the biggest-ever climate change conference Monday, urging rapid progress in building a new international pact by 2009 to combat global warming, or risk economic and environmental disaster caused by rising temperatures. [Agencies]
Yvo de Boer, the UN's top climate official, praised the December 3-14 meeting of 10,000 participants for progress towards a goal of launching formal talks on a long-term climate pact to succeed the UN's Kyoto Protocol.
"But in this process, as in so many, the devil's in the detail," he cautioned at a beach-side conference centre on the Indonesian island.
Governments set up a "special group" to examine options for the planned negotiations meant to bind the United States and developing nations more firmly into fighting climate change beyond Kyoto.
The meeting also agreed to study ways to do more to transfer clean technologies, such as solar panels or wind turbines, to developing nations. Such a move is key to greater involvement by developing nations in tackling their climate-warming emissions.
The Kyoto Protocol now binds 36 rich nations to curb emissions of greenhouse gases, mainly from burning fossil fuels, by an average of 5 percent below 1990 levels by 2008-12 in a step to curb droughts, floods, heatwaves and rising seas.
Canada said in a submission to the talks that "to be effective, a new international framework must include emission reduction obligations for all the largest emitting economies." It did not mention deeper cuts for rich nations beyond 2012.
And Japan on Monday called on all parties to effectively participate and contribute substantially.
"Canada and Japan are saying nothing about legally binding emission reductions for themselves after 2012," said Steven Guilbeault of environmental group Equiterre. "They are trying to shift the burden to China and India."
No Formal Proposals
Green groups gave Japan a mock award as "Fossil of the Day" -- made daily to the nation accused of holding up the talks.
De Boer played down the environmentalists' objections, saying that all nations were merely laying out ideas. "A marriage contract is not something to discuss on a first date," he said. "No proposals have formally been made."
The Bali talks are seeking a mandate to widen Kyoto to all nations beyond 2012.
And de Boer also said the talks should not focus solely on the plan to launch new negotiations. "There's a bit of a risk that countries that are very keen to see negotiations being launched go over the top and focus only on that," he said.
Developing nations were worried that more immediate issues -- such aid to help them cope with droughts, floods and rising seas -- could "be forgotten in all the excitement about the future," he said.
Outside the Bali conference centre on Tuesday, a group of environmentalists gave a mock swimming lesson to delegates, saying that rising seas could swamp low-lying tropical islands such as Bali unless they acted.
"Sea level rise is threatening hundreds of millions of people," they said. "Sink or swim!"