President Hu Jintao and US President Barack Obama each vowed urgent action Tuesday to cool an overheating planet, even as prospects dimmed for a full treaty by the end of the year.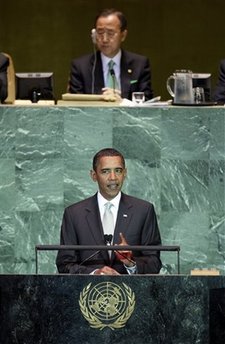 US President Barack Obama addresses the Summit on Climate Change, September 22, 2009, as UN Secretary General Ban Ki-moon listens at the United Nations. [Agencies]


China and the US were the focus at the UN's unprecedented daylong climate change summit, which drew more than 50 presidents and 35 prime ministers, along with many environment ministers and at least one prince.
UN Secretary-General Ban Ki-moon opened the gathering with an appeal to leaders to set aside national interests and think about the future of the globe.
"The climate negotiations are proceeding at glacial speed. The world's glaciers are now melting faster than human progress to protect them -- and us," the UN chief said.
Failure to reach a new international pact on climate change "would be morally inexcusable, economically shortsighted and politically unwise," Ban warned. "The science demands it. The world economy needs it."
At the end of the summit, however, Ban and Danish Prime Minister Lars Loekke Rasmussen, who will host the treaty talks, said they were encouraged at the prospects. "This feeling of political momentum -- that was very strong," said Loekke Rasmussen.
Tuesday's UN gathering and the G20 summit in Pittsburgh this week are seen as an attempt to pressure rich nations to commit to a global climate treaty at Copenhagen, Denmark, in December, and to pay for poorer nations to burn less coal and preserve their forests.

With a mere 76 days to go before the pivotal conference, it appeared an interim agreement might be the most that could be expected in December, leaving difficult details for later talks.
"We are on the path to failure if we continue to act as we have," French President Nicolas Sarkozy cautioned.
Much attention was fixed on Obama's first UN speech, in which he pledged the United States is "determined to act."
"The threat from climate change is serious, it is urgent, and it is growing," Obama said. "And the time we have to reverse this tide is running out."
But while Obama campaigned for the presidency vowing to push through stringent cuts in US emissions, he has run up against stiff resistance among Republicans, and the Senate most likely won't have written climate legislation until after the Copenhagen meeting.
By comparison, Chinese President Hu outlined a program that included plans to plant enough forest to cover about 150,000 square miles -- an area the size of Montana -- and generate 15 percent of the country's energy needs from renewable sources within a decade.
He said China would also take steps to improve energy efficiency and reduce "by a notable margin" its growth rate of carbon pollution as measured against economic growth.
"At stake in the fight against climate change are the common interests of the entire world," Hu said. "Out of a sense of responsibility to its own people and people across the world, China fully appreciates the importance and urgency of addressing climate change."
Still, China and other developing nations "should not ... be asked to take on obligations that go beyond their development stage," Hu said.
On Tuesday, Japan's new prime minister, Yukio Hatoyama pledged his nation would seek a 25 percent cut in greenhouse gas emissions from 1990 levels by 2020.
Hatoyama also said Japan is ready to contribute money and technical help for poorer countries to cut emissions. He called for a "fair and effective international framework" that allows all countries to make cuts.
Actor Djimon Hounsou of Benin helped open the summit, quoting late astronomer Carl Sagan and showing his "Pale Blue Dot" photo of Earth taken in 1990 from Voyager 1 within the larger cosmos.
Despite the lofty words, some international experts were disappointed.
"Someone must have switched the coffee to decaf at today's UN climate summit," Oxfam International spokesman David Waskow said. "Heads of state did not seem to have the necessary energy to deliver the drive we need heading into Copenhagen. We must not let poetic words cover up inadequate action."
"President Obama did not go far enough today and he really needs to throw himself in the game," Waskow said. "Other countries, however, did step up: China expressed readiness to set a carbon intensity target and Japan announced to the world its intention to achieve substantial emissions cuts by 2020."