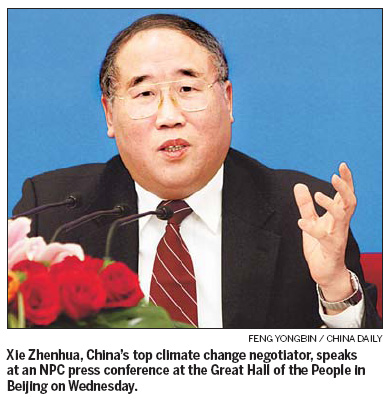 China will release data on its emissions, top negotiator says
China wants the United States to take more radical steps in tackling global warming, though the Obama administration has done a better job than previous governments, the nation's top climate negotiator said on Wednesday.
The domestic obstacles in the US, especially in the US Congress, should not drag down the global climate change negotiation process, Xie Zhenhua warned.
Echoing Xie's calling, international organizations said the US and other rich countries must do more so that climate change negotiations can reach a fair, ambitious and legally-binding deal.
Lot S. Felizco, climate change policy head of Oxfam Hong Kong, said rich countries including the US have the responsibility to cut global emissions. However, the emissions targets they are putting on the table are expected to be just 11 to 18 percent below the 1990 levels - less than half of the 40 percent cuts needed from rich countries to keep global temperatures in check.
At a news conference on the sidelines of China's annual legislative session, Xie said: "The Obama administration has put a greater emphasis on reducing greenhouse gas emissions, but its pledges fall short of international expectations."
Xie urged the world's largest developed country to play a more active role in providing financial aid and technology transfer to developing nations.
"China is willing to continue carrying out further policy dialogue and practical cooperation with the US," Xie said.
Felizco said the US needs to boost the ambition of cuts in the 2010-2020 period, and commit to achieve these under a fair, ambitious and legally binding agreement as soon as possible.
Meanwhile, the US and other rich countries must deliver $150 billion per year for adaptation and mitigation in developing countries, as a meaningful start towards the minimum $200 billion Oxfam estimates will be needed annually by 2020, said Felizco.
"The US, and all other countries, must get on with negotiations under the UN process," said Felizco. "Only a UN deal can deliver the global emission reductions that are needed and ensure the voices of the world's poorest and most vulnerable countries are heard."
Dennis Pamlin, a visiting scholar with the Chinese Academy of Social Sciences, said "Xie is right," as there is a broad agreement among NGOs, scientists and policy makers around the world that the US must show greater commitment.
"With such high per capita emissions, they are not only a problem for themselves, they are also exporting an unsustainable high-carbon lifestyle," said Pamlin.
In order to play a constructive role, the US should first set clear targets that demonstrate a commitment to real reductions of the magnitude that is needed for the US to reach a zero-carbon economy by 2050 at the latest, he said.
Meanwhile, the US should initiate collaboration initiatives with countries like China that can support low-carbon development in key areas such as urban development, smart transportation, smart use of IT solutions as well as strategic research in areas such as nanotechnology, said Pamlin.
Xie said China will actively cooperate with other developing countries and join the rest of the international community in making positive progress at this year's climate conference in Cancun, Mexico.
On Tuesday, China and India wrote to the UN's climate secretariat, agreeing to be "listed" as parties to the Copenhagen Accord.
More than 100 countries had earlier replied to a query by Denmark whether they wanted to be "associated" with the accord.
"China and India share common interests in fighting climate change," as well as many other developing countries, Xie said.
More transparency
China will carry out a voluntary self-assessment on its greenhouse gas reduction programs with reference to the international verification rules, release the results to the public and accept consultation and analysis from other countries - but not invasive examination - Xie said at the news conference.
"We will release a report on the development of our emission-cutting actions every two years," Xie said.
But China, as a developing country, will keep its efforts free from international scrutiny, as it is an issue of sovereignty, he said.
Developing countries only need to make their initiatives on cutting emissions measurable, reportable and verifiable when they receive international financial aid and technology transfer.
"China finances its own emissions reduction programs, so it should be exempt from international scrutiny, according to the regulations," he said.