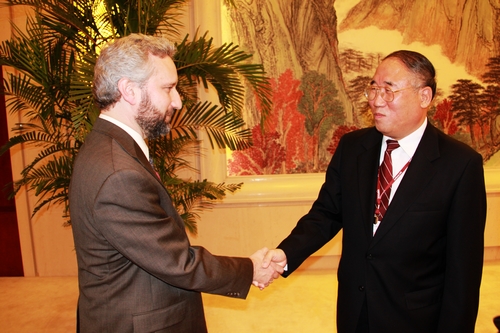 Xie Zhenhua (R), China's chief negotiator on climate change, shakes hands with representatives from Chinese and international NGOs at Tianjin Meijiang Exhibition Center, Tianjin, Oct 8, 2010.
China's chief negotiator on climate change lauded non-governmental organizations have played "a constructive role" in combating global warming.
Xie Zhenhua, deputy director of the National Development and Reform Commission made the remark in a meeting with representatives from Chinese and foreign NGOs in Tianjin, where a new around of United Nations climate change conference is held.
Xie said that he noticed in recent years, NGOs have arranged many "interesting and active" events on environmental protection and climate change, which help to build an environmentally-friendly and resource-saving society.
He said the development of China in a sustainable way requires participation of everyone in the process of mitigating greenhouse gases and improving energy efficiency.
"NGOs perform like a bridge connecting ordinary people and the government for that goal," said Xie.
"I would like to communicate more with NGOs on climate change issues. And I welcome your suggestions and advices for the government," he added.
More than 20 representatives from Greenpeace, the Natural Resources Defense Council and China's local NGOs attended this meeting.